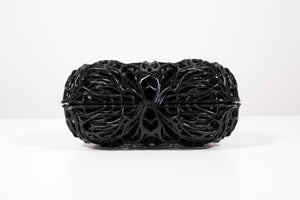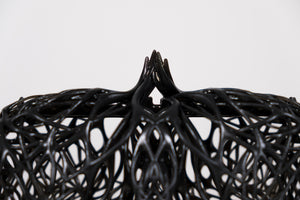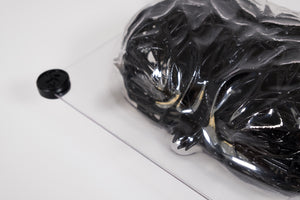 INSPIRED BY NATURE, DIGITALLY CRAFTED
DESIGN
The KELP • MINI by JK3D ® features a digitally crafted design by Award-winning Austrian Designer Julia Koerner that is inspired by the structure and performance of natural kelp topologies, found at the pacific coastline, Julia Koerner 3D-scanned kelp artifacts collected in Malibu, California and digitally crafted kelp inspired geometries which were featured in several designs including the Kelp Mask, Kelp Jacket, Kelp Necklace (which is also part of the permanent collection of the MAK, Museum of Applied Arts Vienna) and most recently the KELP MINI.

It features voids between its intricate geometry which create unique visual effects together with the translucency of the material, and also results in a lightweight clutch with a practical interior space.
HOLD IT
SHOW IT
CARRY IT
OPEN IT
LOVE IT
SIZE AND PRACTICALITY
KELP · MINI
Midnightblue, Mauve and Slate

Design Vision, Creative Direction and Execution by Julia Koerner
Design Team: Julia Koerner, Kais Al-Rawi and Emma Sanson

Copyright JK3D 2021. JK3D is a registered trademark.
Photography: Naomi Neururer | JK3D
Animation: Mariana Tanova
Development of this project is funded by Vienna Business Agency, A fund of the City of Vienna